A while ago I wrote an article for dirtbagrunners a pretty cool American site of easy going sandal wearing ultra runners. Have a look yourself:
It took me a while to get where I am now.
Living in an RV, running ultra distances, working remote while sitting at the beach in board shorts, organizing adventure seminars, writing my blogs. Most of all: not putting too much focus into the expectations of others. When I started my long journey (and I am not even halfway there), I remembered what I used to love about being a kid: Running in the woods, playing in the mud, and not caring much about anything else.
One of the first things I did to change my life from being a suit wearing, business doing arrogant piece of… myself… was doing sports again. Little by little, first in the gym, then outside, then with minimal shoes (I read about vibrams fivefingers before), then travel & sports, then longer distances, then sandals, then solo in Sahara, then barefoot, …then ultra.
The more time I spent running outside the more free I felt. I did not want to go back home.
Home… what is that supposed to mean anyway? When all you strive for is to see more of the things you haven't seen so far?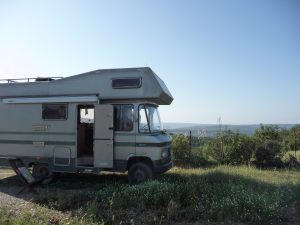 After having rearranged almost all aspects of my old life, I knew, I didn't want to stay at one place anymore. I am the best version of myself when I am free and traveling. Judy, who loves that idea, has lived in different southern African countries for three year during her studies and was bored by her life as a surgeon in a Berlin based hospital. She quit her job for half a year, we gave our apartment in Berlin to friends, bought a small 1971 Mercedes truck that was converted into an RV in 1981, our EMMA and off we went. Quite old-school and slow but that became the way of our travel.
We couldn't go fast anywhere, but time didn't matter anyway. All we owned was with us. I worked internet based because gas still wanted to be paid for. It was still winter in Europe and our first destination was Africa and the Sahara. On our way there, we travelled through Switzerland, went snowboarding, left for France and then Spain. If spring didn't come towards us, we would search and find it somewhere else. The Almond trees were flowering and were coloring the valleys pink. While snow was covering the peaks of Sierra Nevada we slowly moved through a colored scenery.
It's funny how your perspective changes when you change the circumstances of your life.
With most of Europe being populated quite densely it is not easy to find a place to stay for the night. "Camping" is only allowed in "camping places", and if you rest anywhere else somebody will notice and might want to argue with you about that not being allowed. Living in anything else than a house is officially illegal in most of Europe. In Berlin, being a tolerant city, you will find places with several other historic campers while in the rest of Germany and even more so in Switzerland this is causing quite some excitement.
Southern France along the mediteranean sea is used to thousands of RVs and mobile homes in the summer (all being tourists for a week or two). As a result even entering the cities or villages with an RV is often prohibited.
Completely different in Spain. With these huge landscapes and very few inhabitants, it seems as if nobody cares if you stay somewhere in the mountains or even in abandoned places right next to the rough sea. What is new to us though, is being absolutely alone. When you think that every noise you hear outside shouldn't be there. But nobody cares about us, not the dogs we hear in the distance nor the very few cars passing us seldomly. Soon, we leave Spain for Morocco where two friends of ours accompany us for three weeks. That is so perfect about traveling, well… living in an RV. If somebody wants to join us we always find a place for them to stay. No worries about booking or organizing a vacation. Just pick them up and drive somewhere nice.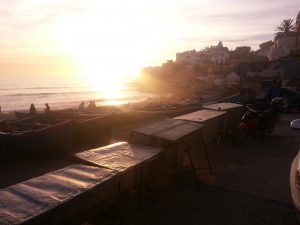 The North African country of Morocco is just on the other side of the Mediterranean sea at the street of Gibraltar. I seems as if you could swim there. Although being near to Europe, Morocco is a different story. When it is getting dark there, it is getting dark. Mostly no streetlights and if you are not in a bigger city almost no lights at all. Nevertheless people will appear from somewhere. You think you are alone. No city, no village near and night appearing, but people show up from somewhere. They try to talk to you, sell you something or trade something for weed. If we don't want anything it happens that the frustrated seller, tries to unscrew something from the car.
Or… police show up at three in the night threatening to arrest us and then guiding us to the next camping place, which I am sure belongs to a cousin. So we just drive of to another place. Talking almost no Arabic and no Berber language doesn't make communication easier unless the Moroccon speaks french what many do. This combination makes us uneasy, so most of the time we pay someone a Euro per night or day to "watch" us. As long as you "belong" to a Moroccon, all the others don't even dare to talk to you.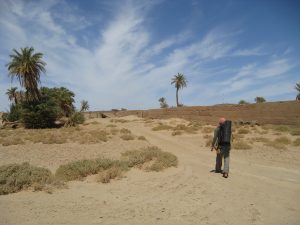 As I find out soon, running is not that easy in Morocco. Because… I'm white. White people are thought to be rich. White people are also thought to be lazy and to loose their orientation without any car navigation. In Morocco you run only if you are poor. Nobody runs for the fun of it.
Now those Moroccons see this white guy running alone. That can only mean:
A) he is lost,
B) in danger or
C) stupid,
…or maybe all together.
In any case, these are reasons enough to stop the person from running and offer to help them (for money) or try to sell them something. Or, send them in the wrong direction so they can later ask for help to find the way back (for money).
Remarkably, the further we leave the touristic regions and the poorer the inhabitants become, the friendlier, nicer and more helpful the people are. It seems to me as if money consumption and the full shelves of the supermarkets corrupt the people.
Meet someone in the middle in the desert and I guarantee you they will be friendly. The nicest people we therefore met lived in very remote areas. The scarier it might appear to a western city person, the more safe you are and the deeper and better the experience becomes. The most peaceful nights we have, are deep n the Sahara dunes. More than a day trip away from the next place of civilization.
We stop and run in the Riff mountains, in the windy city of Essaouira, chaotic colorful Marrakesch, the high Atlas mountains, the perfect surf spots near Agadir (staying directly at the breaking waves of the Atlantic Ocean), the Sahara desert near the Algerian border, the middle Atlas, the 1500 year old historic town of Fes, Chefchoun all the way up in the mountains in the worlds largest weed-growing region and all the way through Spain and France and Belgium and Germany back to Berlin.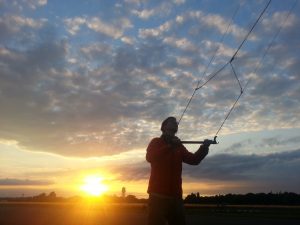 Berlin is easy again. It is summer and it seems as if Berlin becomes the nicest place to be as long as the sun is shining. Pretty much in the center of Berlin you find a former airport (Tempelhof) which is now a huge park, about 3 by 3 kilometers. And you can stay near it with your RV. Perfect for running, chilling, landkiting, sitting in a coffee bar with free wifi and some time for writing.
Judy already starts her new position as a surgeon in a Swiss hospital in Thun in August. Unfortunately the legal circumstances in Switzerland make it quite necessary to have an apartment for her. End of September Judy rents an apartment just outside the city, five kilometers up the mountain with a view on Thuner lake and several snow-covered mountains. The scenery seems to be a gigantic adventure park for grown up kids.
Eight month lie behind us. We lost most of our conventions somewhere on the road. Life seems to be everthing that happens outside your office. The most beautiful moments are outside by foot and preferably on single trails. We are focusing a new challenge at the moment. Two full-time jobs in Western Europe and two hearts striving for freedom. As long as there are alpine trails to be discovered this might work.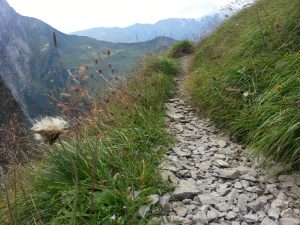 Floh is a do it yourself, whatever it is you wanna do guy. While earning his money as the 'Glücklichtrainer' which means happiness coach in German he finds true bliss when running ultra trails. Having put this desire away for most of his twenties he is up and running since his 30st birthday increasing quantity and quality ever since and decreasing equipment needed to do so. Since January 2014 he lives in his 1971 Mercedes-Benz RV and is traveling Europe and North Africa with his girlfriend Judy in search for running adventures & the meaning of life.
Living the motto: Minimize the stuff you need and maximize the happiness you experience!
He writes (mostly in German) about running at nativerunners.com and about mnimalist life at simplicity-of-happiness.com