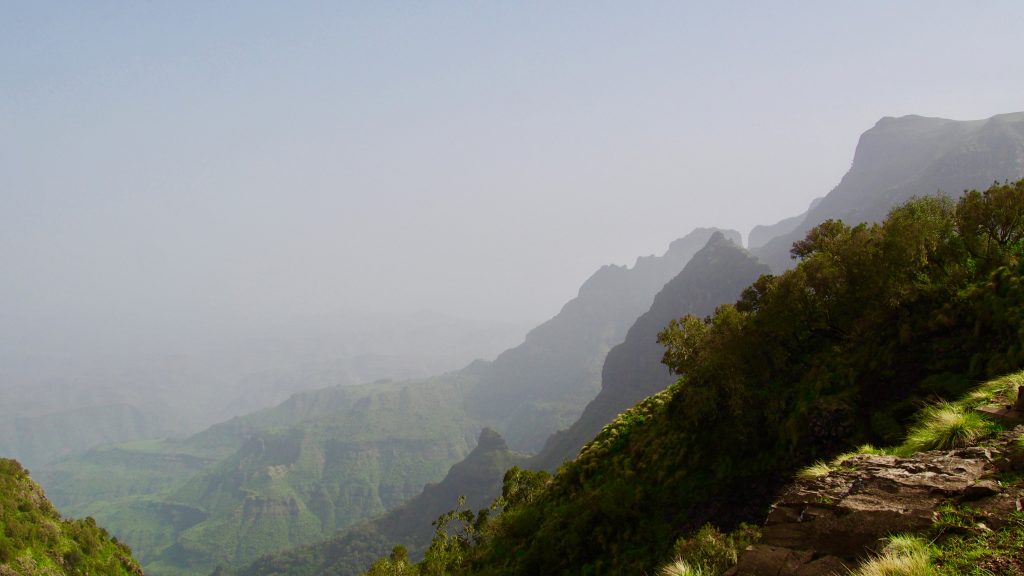 As I am writing this I am sitting on the top of a mountain in northern Ethiopia (3300m). The town nearby is Lalibela and worldwide known for its wonderful churches that were carved out of the mountain. Some carved more than a thousand years ago.
Since I left Zanzibar about a month ago I have been traveling quite a bit. From Zanzibar I caught a plane to Addis Ababa, Ethiopia. We had the president of Zanzibar on board who went for some meeting to Addis. This gave us the wonderful opportunity to fly around and right over mount Kilimanjaro after having stopped at Kilimanjaro airport. From Addis I flew over Heathrow in London to Toronto, Canada. I had near been to Canada before and was positively surprised. I heard Canadians speak about Toronto, as if it wasn't there most beautiful town and still I enjoyed it a lot.
Seemed to me as if it was a City in the US, just more green, more pedestrians and even friendlier. I stayed in Kensington market which gave me the opportunity to walk to University of Toronto early in the morning for class.
There I took a one week hypnosis training with Mister Hypnosis himself: Dr. Mike Mandel. To put it shortly, it was mind blowing and had the potential for changing life. Mine as well as those who will profit from these learnings in the future.
After that amazing week I flew to Berlin to meet my brother, some friends and take care of some stuff. Three days later I left for Cologne where I had another business training. I met my parents, grandma and a good friend and his family. After three days I left for Berlin again, where I met Alex Dahms of 'One Million Good Thoughts'. We recorded a great interview for the next 'One million Good Thoughts' edition this summer.
I also had to clean up my former office at ESCP Europe and had a little farewell party at the Campus, met some more friends I hadn't seen in ages and went to business conference for digital nomads 'DNX' organized by my podcast guest Markus Meurer. Great people, great audience, great day. It was definitely worth it.
Only eight hours after the 'DNX' ended I was on my way to Frankfurt to catch a plane back to Addis Ababa, Ethiopia to meet Judy. We had planned to go on a three weeks vacation.
The winter season in Zanzibar was a dream that came true I would never want to miss. Still it was a whole lot of work. Judy doing her best in the Zanzibar health sector, working and teaching in three different hospitals and me building up the Lodge, mainly creating and installing processes.
When I go there I will do several things different, but for the first times I still had to learn a lot. Now I have a place at the Indian Ocean that keeps growing and expanding with a great team at work. And Judy will start her new position at the University Hospital Bern, Switzerland in July.
First it was time for some vacation for us. As I am planning some Ultra Mountain Races in Switzerland over the summer I wanted to be up in the mountains somewhere. Judy who has a personal history with Ethiopia wanted to visited the country for the first time in her life and since most of the country is above 2500m above sea level it was the place of choice. We started in Addis Ababa in a runners camp of Haile Gebrselassie whom you might know, then went on to Gonder and the Simmiens mountains for a week, where we went above 4000m for several times and I climbed the highest mountain in Ethiopia.
Now we are for some days at Lalibela to see the gorgeous historic monuments they crafted here decades ago. After we will visit Harare, the ancient muslim center of Ethiopia and then will go on to Zanzibar before we leave to Switzerland for the summer, where I will work on the online programs for happylife.coach.
I can tell you, as beautiful as traveling is, sometimes I need to rest a bit to be able to process all the learnings. I don't know how it is in your life, but it might make sense to go for a change every once in while. And may it be only to become aware that you enjoy what you already have.