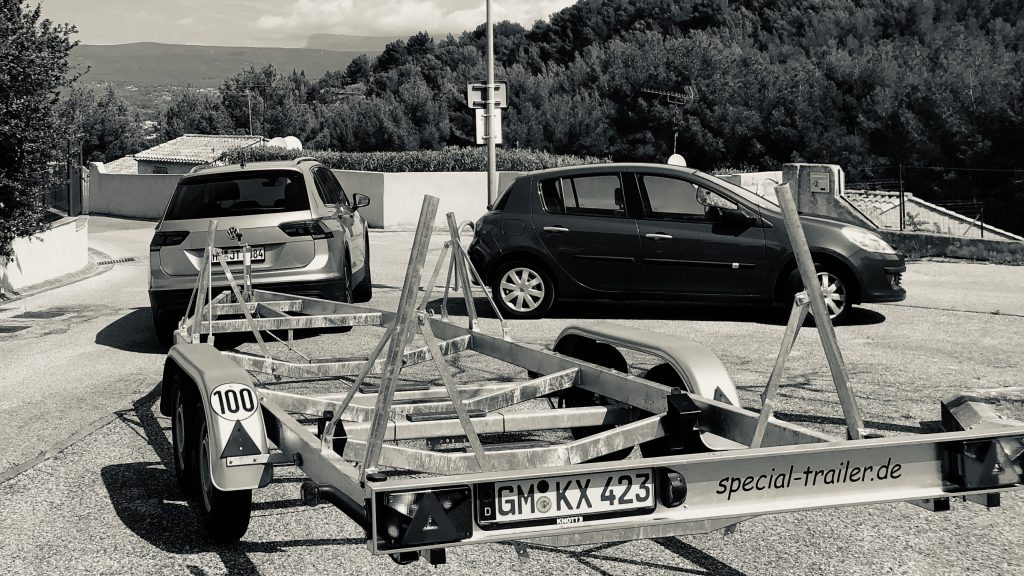 In case you have been following my journey to move my boat into the water and start sailing you may be aware that it did not start as planned.
stuck on land
I thought that I would just buy an old boat, work on it, water it and off I sail. Unfortunately that concept of restoring and reusing old stuff does not aline with everybody. It definitely did not resonate with the owner of the marina, where the boat was on dock when I bought it.
Therefor I needed to move it and had no trailer at that time. As it was almost fall and in the North of Germany people started to take their boats out of the water it wasn't that easy to find a trailer.
custom trailer
So I had one build for me and moved the boat including trailer to the South of France to work on the boat and get it ready for the summer. Then everything went much smoother than expected and the boat was already swimming three weeks later and I had no plan to ever use the trailer again. I set it up for sale and drove it to the new owner this week.
By the way, it turned out to be the best option to have one custom build as the trailer ended up to be cheaper than most oft he used ones I could find for sale. If you need a trailer for your boat, let me know and I'll put you in contact with Steffen who build mine.
less is more
I thought this was worth a post as it shows a lot of the 'less is more' philosophy. Owning stuff is not good or bad. Owning stuff you don't need (and don't use) is what is causing stress and distraction in so many peoples life. Ask yourself if your stuff adds value to your life and then enjoy it. If not… find somebody else who does 😉
Well, enjoy… and thanks for being you.