A psychological analysis tool describing the evolvement of values in your life.
Why are values important?
Values are the elements that constitute a culture. They define meaning and significance within a social system (group, society, etc.). Many models focus on how people behave or on typologies that cannot be changed. The 9 Levels go deeper – they articulate the values. A value articulated within a culture helps shape how people understand and perceive the world, consequently serving as the basis for planning how people will act. These foundational values that drive human actions are analysed and articulated to guide how people, departments, and organizations think and act.
Why would you need an analysis and where can you apply it?
values drive people;
values set the direction;
values lay the foundation for evaluation. What's right and what's wrong?
When values are fulfilled, we are happy and successful.
When values go unfulfilled, we are unhappy and unsuccessful.
We have developed three research-based analytical tools that have proven their reliability in consultancy, coaching and training work to help make these value systems measurable.
Areas of Application
Classic single coaching with personal challenges and for selected areas of development
Executive coaching and mentoring
Career counselling, placement / outplacement
Conflict coaching through to team coaching
Project management coaching
Talent-Management
Career advice
Youth leadership development
Use employees and managers who have worked longer in the company optimally according to their strengths in the organization.
Dealing with the past: Why it no longer currently works with the existing organization? What has changed?
Which areas of activity are potentially interesting?
Which organization would be the right one for the new area of activity?
Are there any organizations in which the previous area of activity could be further practised?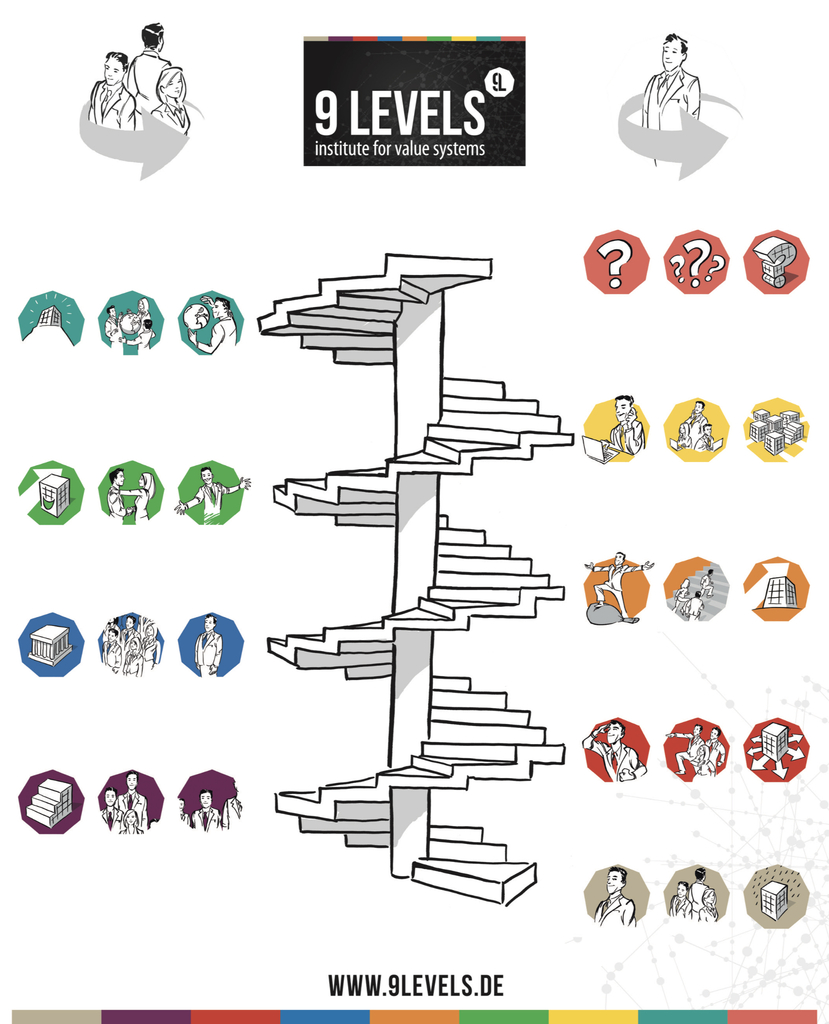 Why 9 levels?
9 levels make the coaching process transparent and tangible. It measures the value systems of a person and this makes it easier to consciously deal with the current situation. It also allows a glance into the past and into the future: How your coachee has fitted into the company in the past and how in the future he must customize his employer, his work environment, and his situation so as to be satisfied and also be able to react to the environment coherently and respond appropriately. Only then can he / she be successful and fulfilled.
Benefits
The often called "soft" topic of values will become visible and tangible – and therefore changeable. In particular those people who are strongly oriented to numbers / data / facts, want specific metrics in the coaching process. By making people aware of their own value systems other processes will be set in motion – and on that basis can always be called upon.
How does it work?
The coachee receives a code and a link for the Personal Value System in advance and answers questions. You, as a coach, bring the results of the questionnaire (report) to the coaching session and talk this through with your coachee. The report contains some additional reflection questions that will help you and your coachee to reach a mutual understanding. Starting from the actual situation you develop situation analyses and tailored development plans together for a successful and happy future.